It's mid-August, football, two-a-days, are on us, every town's team is going to 'State', but by December, only a few will make it to the big game.
One of our Grandkids, Sara, a sophomore, was selected to be a varsity cheerleader for the Copperas Cove Bull Dawgs, a Class 5A school. Quite an accomplishment! The 'Dawgs' have been to 'State' the last 2 seasons.
Goldthwaite is no different and last Friday night, held in the high school gym in deference to the heat, was the official start of their season Meet The Eagles!
Layla and I had two of our Grandkids introduced.
Mikayla, who had just had her braces applied that day, was introduced as a 7th grade cheerleader.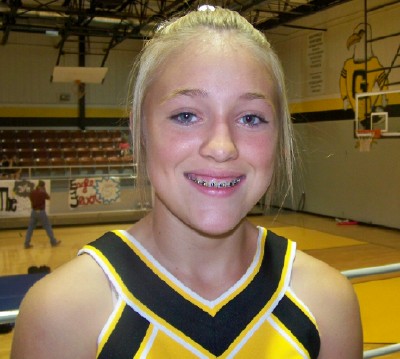 Colton, on the left, was introduced as a varsity, defensive line backer and offensive guard. He made his goal of making the varsity team as a freshman. Colton, and his friend, Tyler, both being freshmen, were introduced first.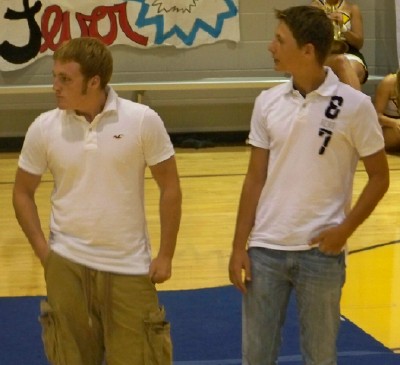 On Saturday morning we drove through a driving, rain, storm, out to Bangs, for a controlled scrimmage between the Class A, Goldthwaite Eagles and the Class 2A, Bangs Dragons. Fearing the season opener would be postponed, we arrived in Bangs, and to our surprise, the scrimmage was being held in an indoor practice facility. I would expect this at Katy or Southlake-Carroll, both big Class 5A, schools, but not small, Class 2A, Bangs.
Colton, in the middle, and Tyler, left outside, both started at linebacker for the Eagles and after a few stuttering plays, settled in and played excellent football, especially for freshmen. A wall of the indoor facility is in the background. I wonder why they played crossways to the stripes?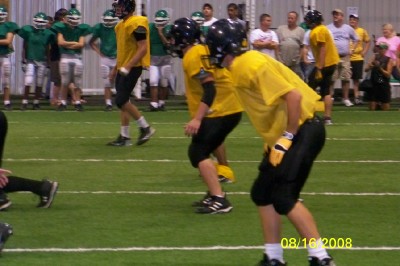 The longer the scrimmage lasted, the better the Eagles performed. If the team builds on this early success, maybe they'll be a December team?